The print button allows you to print active chart windows. Press setup to configure your printer. The normal setting will print what you see in the active chart window. You can print from one date to another by selecting 'from data to date'. Finally, select whether you want to print in color or black and white. You must have a color printer to print a color chart.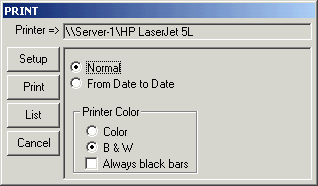 The Go To button allows you to go to a specific date in your chart. Select the date and press the 'Goto' button. Pressing 'start' will take you to the 1st bar loaded in memory. Pressing 'end' will take you to the last bar in memory.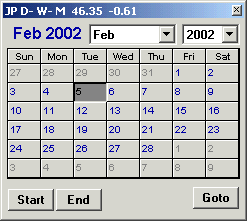 The 'values' button opens a window showing you all the values for the last bar seen on the chart as well as values for all indicators on the chart.